Favorite Maui Activities
The Feast at Lele located next door in 505 is an excellent upscale luau. You may have already heard the music as they play most evenings. The Feast presents four island cultures complete with a short narrative, dances, and a sampling of absolutely delicious food prepared in the style of the island being presented. Included are Hawaii, Samoa, Tahiti, and New Zealand. Drinks are free flowing, and wonderfully prepared. We've enjoyed this show many times during our visits to Maui!
Old Lahaina Luau located near Cannery Mall, is a more traditional luau experience. Lots of displays of local crafts and a ceremonial unearthing of the pig which has been roasting underground. The location is on the beach, and the excellent food is served buffet style. Then an excellent show by some of the top performers on Maui. It is highly advisable to make reservations prior to your arrival on Maui as they are frequently sold out.
There are many ways to see Haleakala crater. The rim is at 10,023 feet an as you peer into the crater, it will remind you of an otherworldly landscape. Some people like to see sunset from the rim, or sunrise. One way we enjoyed the mountain was to bike down it using Maui Downhill. They did an excellent job and it was a blast. Very low physical requirements....it's all downhill! Balance is certainly an asset.
The Road to Hana is a beautiful and fun drive with lots of attractions along the way to see and do. We highly recommend that you play a copy of 'The Road to Hana' featuring..... The real trip starts as you leave Pa'ia. While this is home to the Pa'ia Fish Market, you should be travelling thru Pa'ia well before lunch or it is going to be a very long day. After Pa'ia, coming up soon on the left is a great lookout to see the pounding surf and watch surfers ride the waves. A key to enjoying the Road is to pace yourself. Rather than try to do everything, just sample the items that interest you. Be sure to save some stops for the return trip. Click here for some of our favorite stops. On the return, some will advise that you make the full circle and circumnavigate Haleakala....*warning* this is a very long way back chock full of one lane unpaved roads, and occasionally heavy oncoming traffic. My brother-in-law had to back up half a mile around the side of the mountain on a single lane road to allow a truck pulling a trailer to pass. This is not for the faint of heart, and you should check your rental agreement too! It's an adventure, but certainly something for which once is more than enough. For me, I'll return on the main highway.
Your own Lanai is an excellent place to enjoy the sunset. It's an event to celebrate the end of another wonderful day in Maui to sit on the lanai with pupus and a glass of wine. Everything is just so peaceful and beautiful. Don't let a few clouds dissuade you as some of the most wondrous sunsets I have witnessed are when the setting sun is reflected from the bottom of clouds overhead.
Visiting Lana'i is as easy as walking to the harbor and catching the Lanai ferry. Lanai is a very different experience than you get on Maui. The population of island is about 3,000. There is only about one paved road, and the rest range from dirt roads (lots of red dust!) to outright trails. Four wheeling is a must. You will definitely want to rent a Jeep from Dollar, the only car rental place, at a cost of about $150/day. That certainly seems expensive until you get out on one of those trails as the vehicles have to take a lot of abuse. Upon arrival, walk to the right down to where the buses are parked. It is $10/person to be taken up to Lanai City to pick up your jeep. They will not charge you for the bus ride if you tell them you are going to Dollar, and Dollar will pay for one person. For others in your party, Dollar will just add them to your rental charge. For your outing, I can highly recommend visiting the remains of the summer fishing village of Kamehameha I. Be sure to hike down to the water and take a look around at the unusual sea life trapped when the water retreats as well as the caves where canoes were repaired and fish were processed. Another great place to travel to is Shipwreck beach, so named due to one of the concrete Victory ships being grounded in plain view. If you would like to hike up to see the petroglphs, which you will see referenced in lots of publications, take the route to Shipwreck Beach to the end of the jeep trail, then use these co-ordinates in your smartphone to lead you directly to them: 20.913766,-156.902547. For meals, we can reommend the 565 Cafe for pizza, sandwiches and the like. This is a truly local spot. For a nice dinner, try the Lanai City Grill, located in the Lanai City Hotel, one of the best restaurants we have ever experienced, though it can be pricey. If you would like to spend a night or two, I would recommend the Lanai City Hotel, though there are also a couple of Four Seasons Resorts, if that is your preference. Whether you go for the day, or for a couple of days, you will enjoy a short visit to Lana'i!
The North Shore drive is beautiful. You just drive up past Ka'napali and keep going. There are lots of cliffs and dramatic vistas. The first third is pretty well populated. After that, the drive gives way to a one lane highway, and meeting cars can be dicey. I've also read about thefts, so if you stop, be certain to lock everything up as you enjoy the scenery. I don't want to overstate the danger as we have never had a problem, but just be careful and smart.
Makawao is an attraction in itself. There were ranches and cowboys in Maui well before the culture appeared in the Western United States. In 1793, Captain George Vancouver shipped the very first cattle to King Kamehameha I as offering. His grandson, King Kamehameha III, brought the first Mexican vaqueros from Vera Cruz to the Big Island in 1830 to care for the cattle and teach ka'amaina the skills in handling cattle. The vaqueros were Spaniards but the ka'amaina called them Espaniolo, for Spanish, which, over time, became paniolo or the Hawaiian cowboy that we now know today. Several shops and business centers were established in downtown Makawao that specialized in attending to the paniolos and their needs as well as the needs and desires of Maui visitors.
Whether you plan to snorkel while on Maui or not, a visit to the Maui Ocean Center is a great way to spend a a morning or an afternoon. After you wander through the main building, do not miss the shark tank which has several species of shark, huge rays and deep ocean fish. They also have a 'hands on' exhibit with a naturalist on hand where you can actually touch starfish, sea cucumbers and urchin. A surprisingly great way to spend the day.
For a unique experience, take a look at O'o Farm located a short drive from Lahaina Shores. They offer Gourmet Organic Lunch Tours where you can learn about how the farm operates, and pick vegetables to be served for your lunch. O'o Farm has common ownership with Pacific'O and I'O restaurants which are located next door to Lahaina Shores and supplies the restaurants with fresh organic vegetables. Don't forget to bring your own bottle of wine, preferably a local one from Tedeschi, to enjoy with your lunch if you wish.
Sportfishing in Lahaina is about as popular as whale-watching. Just down the street in Lahaina harbor is a selection of boats and captains and they offer a number of options for angling. We just chartered with Start Me Up for a great day of fishing with Captain Timster and mate Chris. We caught way more than we can eat for the next month and had a great time doing it. Timster and Chris were friendly and kept us well informed. Offered shared fishing trips or boat charters for any duration or departure time. If you choose a different provider, be sure to ask if you can keep what you catch, as one is really a commercial boat and keeps the fish.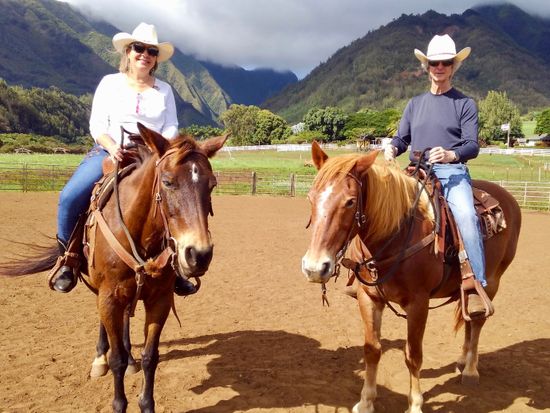 We love to go Horseback Riding in various areas as we travel around, and Maui is not exception. On Maui, we call Yod O'Neal over at Makani Olu Ranch for a great morning or afternoon on horseback. He offers tours and lessons and will tailor the experience to you.
If Stargazing interests you, every month around the new moon Pacific Whale Foundation offers an evening stargazing cruise with astronomer Harriet Witt on board. We love it and enjoy this every time we are in Maui. A heavy snacks and drinks are included. If you really want to get up close and personal with the heavens, then the Tour of the Stars offered at the Hyatt in Ka'anapali is an excellent choice. They have a program that includes several views through their 800lb 14 inch Celestron reflector telescope during a program led by a local astronomer. Very cool!
For something different, take the tour at Surfing Goat Dairy a short drive away. They offer multiple tour types ranging from a simple walk around the farm, to a full blown tour including a chance to milk the goats, and a fantastic tasting of many of the cheeses they make right on the farm. As you dine on Maui, you will notice that many of the better restaurants serve their cheeses. It is excellent! Even if you aren't in the mood for a tour, stop buy and purchase some of the excellent cheeses.
If you would like fabulous Hawaiian style sweet bread to go with your goat cheese, head from the dairy to Makawao and the T Komoda Store and Bakery (3674 Baldwin Avenue, Makawao, 808-572-7261) for daily made bread and pastry. Donuts-on-a-stick and cream-puffs are also specialties. An excellent but unassuming choice. Closed on Sundays and Wednesdays.
If you want some wine to go with your locally made goat cheese and bread, try Tedeschi Vineyards on Ulupalakua Ranch in Kula. You can take a tour of the winery and grounds as well as partake in a tasting of several of the vineyard's wines. We like the Maui Blanc, a pineapple wine, and the sparkling wine, Hula O Maui. The dairy, vineyards, and bakery can all easily be visited in a day although we would recommend going to the bakery first as they can sell out by early afternoon. Check before you go to make sure all are open.
Just outside your door, you can begin a terrific Walking Tour of Lahaina and learn all about the history of Maui, and of Lahaina. You will amazed at just how much local history is so close by.
Warren and Annabelle's is a must see, but it is often sold out, so do book early. Normally, we include the dinner option which includes two excellent cocktails and a delicious assortment of appetizers that is truly a meal. The wait staff is very entertaining, as is Annabelle. After the dinner portion, everyone is invited to the show room. It's small, so every seat is excellent. Warren does a fantastic job of executing great magic right in front of your eyes while, basically, performing a comedy routine. How many ways can you say "don't miss this"?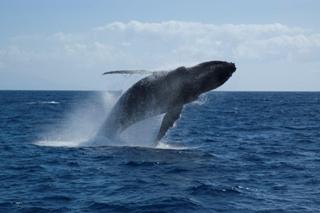 Whale Watching is a key activity from November thru April, and is one of the key reasons we decided to visit Maui in the first place. There are a number of companies that offer whale watching adventures though we personally favor the Pacific Whale Foundation as they treat all of the animals with respect and work toward the preservation of Pacific sea life. With Pacific Whale, you can buy a membership that includes discounts on their offerings as well as priority boarding. To us, it's a great chance to both help out, and help ourselves.
Want to shop for some uniquely Hawaiian gifts? Front Street abounds with shops carrying unique Hawaiian gifts but if you have transportation, there are two stores other stores that carry very unique gifts. The Totally Hawaiian Gift Gallery in Whalers Village (2435 Kaanapali Parkway, Lahaina) has hand stitched Hawaiian quilts, handmade calabash, jewelry, glass and other items unique to Hawaii. In Wailuku (1980 Main St. #2), visit Native Intelligence for extraordinary Hawaiian cultural items, books and music, food, and clothing. We purchased our maile leis for our blessing at Native Intelligence. They have a wide variety of leis for your special occasions.
Still looking?!? Well, check out this extensive calendar of events for the island of Maui. If it is happening on Maui, you will find it here!